This structure for Bag Solo definitely had the wow factor and is one of our bespoke exhibition stands created using both modular and bespoke elements. A 4x4m space only area is filled with a [highlight color="green"]dramatic and stunning looking stand[/highlight] which attracted plenty of attention from all corners of the exhibition, not just from visitors but from other exhibitors. The client's brief was quite specific with details of what they wanted to achieve and our designer certainly maximised the space in the best possible way. The client wanted to draw attention to a competition they wanted to run during the course of the show for visitors to win £1,000 in a prize draw on shipping skis via FedEx so the designer incorporated graphics to the front pillars of the stand in bold lettering.
LED lighting was used as back lighting for the logo placed at the front of the stand which was cut out separately on foamex material and placed onto the circular header to make a 3D effect, adding to the dramatic look. The whole of the circular header section of the stand was clad in graphics to seamlessly blend in with the rest of the stand. Our design team had the idea of using ribbons to connect from the top inside of the circular header and meet in the middle, branded in the companies colours they create a visually stunning center piece. Lighting was used and mounted into the underside of the circular header to [highlight color="green"]light up the whole stand[/highlight] and lighting was also put into the two sections on either side of the stand.
Exhibition Stand focus points
small footprint, requires large impact
key messages on front legs
looped media playing on LED screen
reusable yet bespoke exhibition stands
formal furniture
easy access to all stand areas
The back wall had block black graphics with a world map and a 42" screen mounted in the middle of the back wall to enable visitors to view looped presentations easily and provided the client with additional advertising opportunities. The height of the stand and the freestanding columns provided enough space to allow two glass tables and 8 stools to be placed on the stand without obscuring the overall look and spacious feel and also allowed the client to chat to prospective customers in comfort.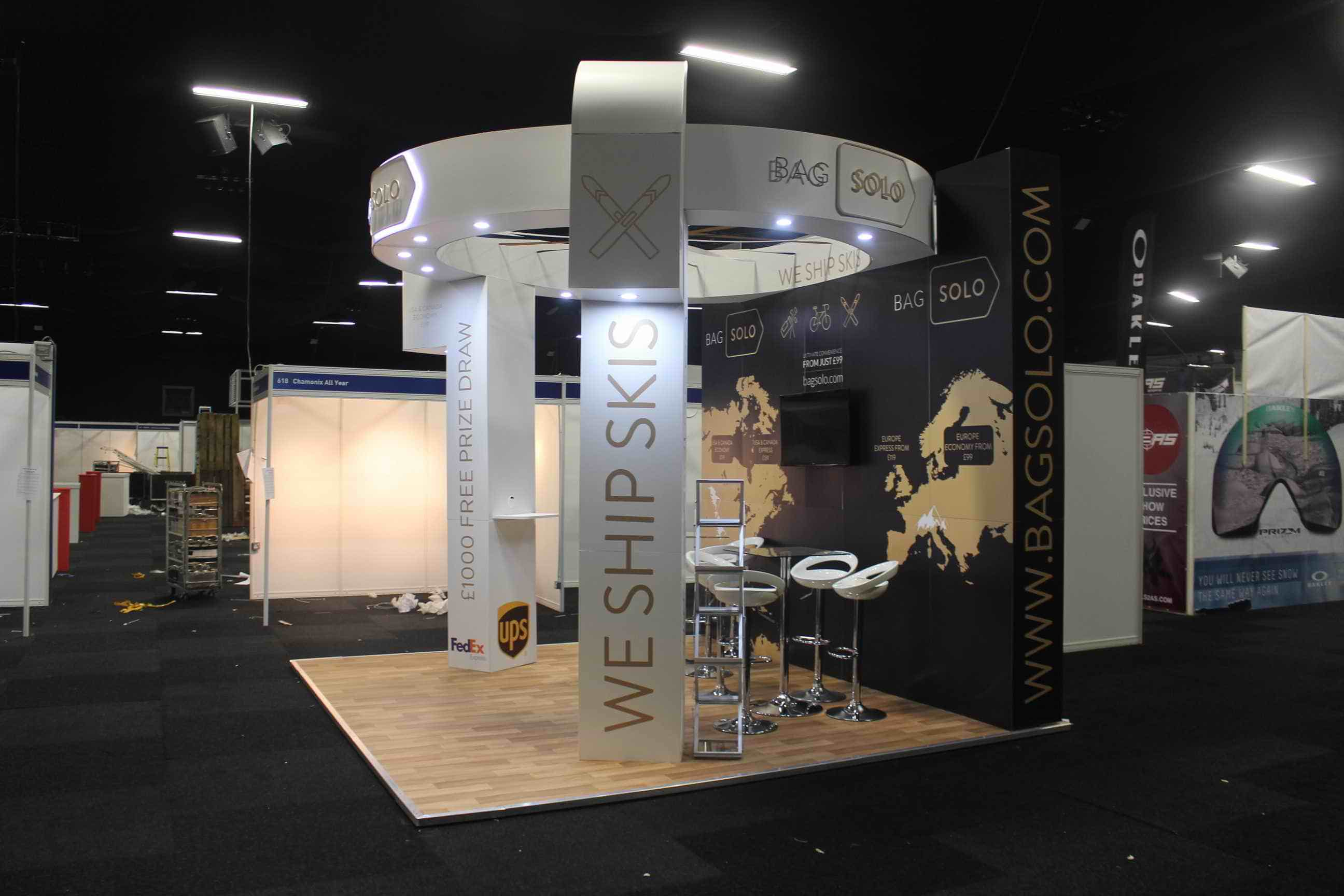 A raised floor trimmed with aluminium, with a light wood effect vinyl floor covering really finished off the stand, giving it a truly professional look.