This 6x2m conference display stand for Richmond Pharmacology was fully open on two sides with the third side partly open and was maximised by the use of a lockable storage cupboard with porthole which the client wanted as part of the brief.  This enabled the stand to have two freestanding literature racks to display brochures and leaflets for visitors to the stand to take away with them.  The main structure of the stand consisted of three graphic wrapped walls which is a fairly simple design in itself but the client made full use of the stand, not only by [highlight color="green"]using great graphics[/highlight] to give the stand a bigger appearance, but also by having plenty of furniture consisting of two glass tables and eight stools to sit and chat with visitors and potential clients.
The back walling was illuminated by exhibition LED stick lighting all along the top of the walling, making the overall appearance of the stand [highlight color="green"]very eye catching.[/highlight]  A flat 42"screen faced out into the room for additional exposure and to enable the client to loop and run presentations containing useful information about their products and services. This is easily achieved as the screens loop directly from USB sticks. Other clients using standard roller banners or pop up stands didn't get the same impact as this small bespoke stand.
Exhibition Stand focus points
Fast install on tight deadline
LED screen for looping media
Good size store for a conference display stand
Seating area
Seamless graphics with key messages
Raised platform with white vinyl floor covering
Reusable for multiple events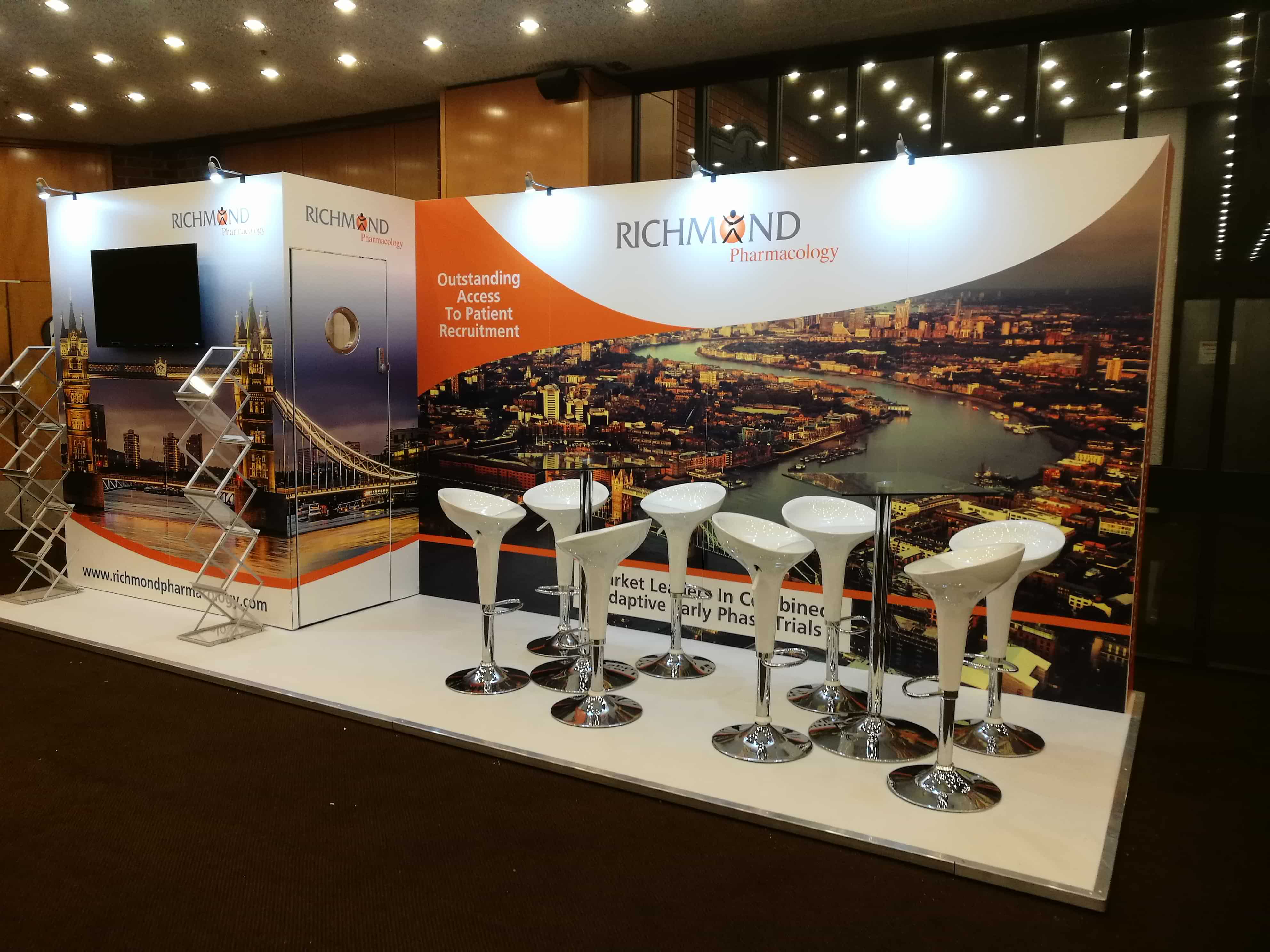 The stand also had a raised floor which was covered with white vinyl and aluminium trim around the edge for a clean finish.  The client was very happy with the stand as it not only provided them with a cost effective display, but due to the clever use of graphics, furniture and storage cupboard, the overall stand looked bigger than it actually was. Another repeat client taking advantage of our storage and reusable graphics option.